Rain is out of beta and offering flat rate cellular data @ R50 / Gb (no contract, no bundles, only pay for what you use at the end of the month)
Machine learning is a complex topic - difficult to illustrate and explain. What if there was an easy way for your learners to do some machine learning programming for themselves? In Scratch? Using the power of IBM's Watson supercomputer? All online without having to install software? Check out the AI section below for a really exciting and amazing tool....
Light. Radio. X-Rays. Gamma Rays. Infra-red. Ultra-violet. Microwaves. These are all essentially part of the same range of physical phenomena - the Electromagnetic Spectrum. If our eyes had evolved differently we might be able to see radio waves. Maybe there are aliens out there who can actually do this. Thinking outside the box, MIT researchers have tried using radio waves like a less lethal for of X-Rays. They can use the fact that your body interferes with the radio waves sent out by your WiFi router and use that to track your movements - even through walls.
Motherboard has the details.
Fake News
AI
Hacks, Cracks, Malware, Etc...
Social Media
Social implications
Customer rewards - XKCD style...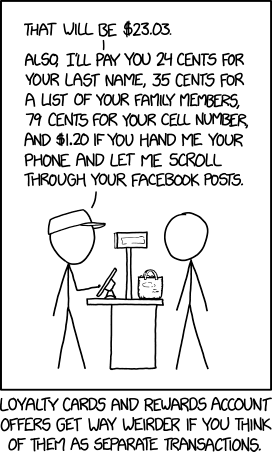 Hardware (and Supercomputing)
Software
History...