What a mouthful! The premonition that 2018 would be the year of the rise of cryptojacking seems to be morphing into reality faster than expected. Both Google's mainstream ads and YouTube ads made the news this week as being targeted by Malvertising syndicates. The basic idea is to place adverts using Google's DoubleClick ad service. The ads though, contain code that sets the computer they are displayed on to mining cryptocurrency - and can use up to 80% of the computer's processing power to do so.
Trend Micro (an anti-virus / anti-malware company) published the breach on their blog on 26 January. On the same day Ars Technica published that YouTube was affected by the same problem. Confiant (a digital advertising company) has released a report detailing how last year 28 fake ad agencies were created by criminals in order to generate over 1 billion views of 'malvertising'. A technical but very interesting read.
So, What is 'Malvertising'?
Malware (anything from ransomware to botnet controllers to cryptocurrency mining software) hidden in advertising that can be displayed on any web page you visit. Some malvertising delivers its payload as soon as the ad is displayed, some need you to click on the advert before they become active. The bad guys create the ads and submit them to ad agencies. The ad agencies display ads on web sites based on algorithms which match you to the content on the web site. The bad guys have to pay for the ad to be shown, but they potentially gain so much more when you are infected. Digital Guardian has a great, in-depth explanation of malvertising here.
So why is cryptojacking bad?
As malware goes, cryptojacking doesn't seem so bad - after all, it doesn't destroy your data... What does it do? It sets your computer to doing the complex mathematical calculations needed to 'mine' a cryptocurrency. For you, your computer slows down and goes into overdrive with 80% of your CPU's time being spent on the mining operation. This also means that your computer runs hotter and uses more power. For the hacker; they don't have to buy expensive mining computer hardware - or pay the expensive electricity bills that go with mining cryptocurrency. They just collect the cryptocurrency that gets mined.
Password problems....
In the meanwhile it has emerged that the fake missile alert in Hawaii mentioned in last week's blog could have had a much quicker resolution. It turns out the Governor of Hawaii wanted to tweet a message saying the alert was fake mere minutes after the alert went out. Why didn't he do so? He forgot / didn't know his password....
XKCD's take....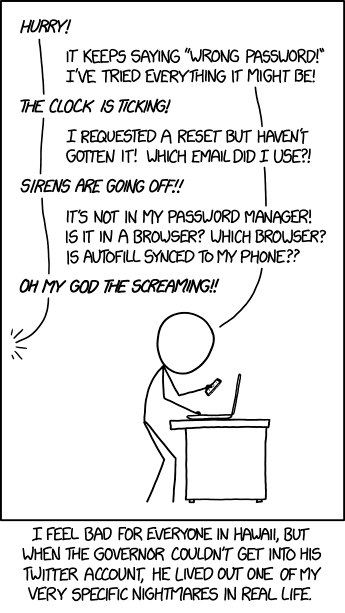 Car makers are tracking you - whether you know it or not.
The Washington Post exposes how car makers are gathering data from their products. A fascinating read.
Net Neutrality explained - with burgers!
In case you have missed it, Net Neutrality legislation in the US has been repealed, opening up the possibility for various abuses of the internet by the telecommunications companies that own the infrastructure. Many people don't really understand what this means. Burger King created an ad to illustrate the problem using burger sales in their stores.
Primates Cloned in China.
Not a direct tech story - but rather a biotech story that is made possible by IT. Chinese scientists have successfully cloned two long tailed macaque monkeys.
The quote below explains its significance:
| | | |
| --- | --- | --- |
| | | |
| | "The technical barrier of cloning primate species, including humans, is now broken," | |
| | - Qiang Sun, Lead Researcher | |
Little Ripper - Hero Drone
A drone saved two boys from drowning on its first day of use.
That's the news for this week. Happy teaching!